5 Vegetarian Recipes For the Perfect Weekend BBQ
DISCLAIMER
This blog does not intend to provide diagnosis... Read More

This blog does not intend to provide diagnosis, treatment, or medical advice. Read more. The content provided on this blog is for informational purposes only. Please consult with a physician or other healthcare professional regarding any medical or health-related diagnosis or treatment options. Information on this blog should not be considered as a substitute for advice from a healthcare professional. The claims made about specific products throughout this blog are not approved to diagnose, treat, cure, or prevent disease.
In this article: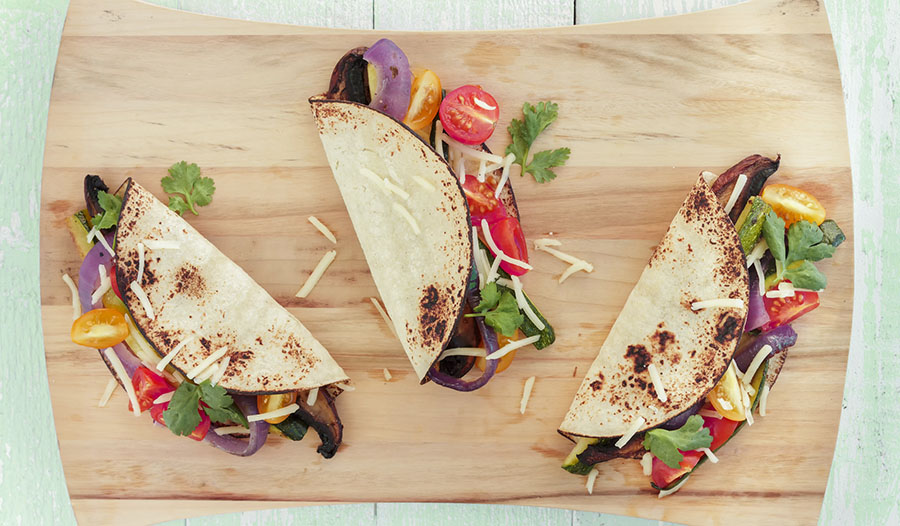 Being vegetarian does not have to mean that barbecues are out of reach. These tasty vegetarian cookout options will be loved by both vegetarians and carnivores.
Delicious Vegetarian Barbecue Recipes
As temperatures warm up, more and more people plan for barbecues with friends and family. But it can be quite disappointing to show up at a cookout and find that the only vegetarian option is a plain hamburger bun. Here are some great meat-free alternatives that are suitable for any barbecue. Even meat lovers are sure to enjoy these hearty dishes.
Vegetarian BBQ Quinoa Salad
This is a fun twist on the pasta salads found at so many barbecues. Unlike most mayonnaise-rich pasta salads, this quinoa salad has a light and refreshing taste. Thanks to the addition of quinoa and chickpeas, it has plenty of protein and is hearty enough to be one of the main entrees at a cookout. With a fun mixture of brightly colored vegetables, a big bowl of this is a tempting centerpiece on any buffet table.
Ingredients:
Instructions:
Rinse the quinoa thoroughly and put it in a saucepan with the 2 cups of water. Bring to a boil before lowering to a simmer for 15 minutes. Once the quinoa has absorbed the water, take it off the heat, cover it and let it sit for five minutes.

Combine the olive oil, lemon juice, garlic, sea salt and black pepper in a bowl to make the dressing.

After the quinoa is cool, combine it with the bell pepper, onion, parsley, cucumber and chickpeas. Toss to combine before adding the dressing and stirring again.

Let the salad sit in the refrigerator for at least 30 minutes before serving to let the flavors combine.
Vegan Portobello Tacos on the Grill
Looking for vegan alternatives to grilled meats? Portobello mushrooms are the perfect option because they have a hearty flavor that pairs well with savory, smoky flavors. These tacos combine perfectly grilled portobellos with fresh veggies and a vegan cheese sauce to make a satisfyingly delicious meal. They are so tasty that many people find their meat-loving friends want a few, too! This recipe normally works as a full meal for two people or a snack for four, so make sure to size up accordingly.
Ingredients:
Instructions:
Remove the stems from the portobellos and toss them with the olive oil, cumin, paprika, garlic powder, chili powder and salt. Set them aside to marinate for a half hour.

While the mushrooms marinate, make the cheese sauce by combining the nutritional yeast, cashews, lemon juice, black pepper and water in a blender and blending until silky smooth.

Place the mushrooms on a hot grill. Let one side cook for six minutes before flipping and cooking another six minutes. If desired, grill the tortillas for 10 seconds a side to warm them up.

Slice the grilled mushrooms into strips.

Fill the flour tortillas with mushrooms, tomatoes and avocado slices before drizzling with cheese sauce and sprinkling with cilantro.
Lemon Walnut Coleslaw Alternatives
This lemon walnut coleslaw is a tasty alternative that is packed with nutrient-rich foods. The walnuts give a person plenty of healthy omega-3 fats while the cranberries are a great source of vitamin C as well as B vitamins. A tangy dressing made with lemon instead of mayonnaise means that this delicious coleslaw alternative is entirely vegan. One of the big advantages of this salad is its versatility. It can be served as a side at a traditional cookout, yet it is also flavorful and filling enough to be an entree option for vegan guests.
Ingredients:
Instructions:
Make the dressing by blending together the lemon juice, lemon zest, avocado oil, honey, salt and black pepper, and set aside.

Put the apple, walnuts, cranberries, poppy seeds and coleslaw mix in a mixing bowl and toss to combine it.

Drizzle the dressing over it and stir until thoroughly combined.

Place the coleslaw in the refrigerator for at least a half hour.

Place in a large bowl and serve.
Sweet Potato Quinoa Burger on the Grill
This is another great vegetarian BBQ alternative that can be grilled alongside more traditional offerings. The key to this recipe is using finely chopped nuts to give it more texture while the quinoa provides filling protein. The sweet potato makes it nice and tasty. With a yummy blend of southwestern spices, this burger tastes even better than many meaty options. Unlike most vegetarian burger options, this burger is completely egg-free. It uses a flaxseed gel mixture to bind all the ingredients together without requiring animal products.
Ingredients:
Instructions:
Mix together the flaxseed and water and set it aside to form a gel.

Mash the black beans and sweet potato until a fine, crumbly mixture forms. Avoid using a food processor that may make too smooth of a paste.

Chop or process the pecans until they are in small, coarse bites.

Mix together the beans, quinoa, sweet potatoes, nuts, onion and spices. Form the mixture into patties. Sweet potato patties do not shrink like beef patties, so be sure to create a patty in the desired final size.

Put the burgers on a nonstick baking sheet and bake them at 400 degrees Fahrenheit for 20 minutes. Meanwhile, heat up the grill.

Remove patties from the oven and cook them on the grill for five minutes per side. Handle them carefully while flipping to avoid crumbling.

Serve on a bun or in a lettuce wrap. Tasty topping options include lettuce, tomato, avocado, sour cream, cheese, mayo and more.
Dairy-Free Chocolate Ice Cream Alternatives
No cookout is complete without a tasty chilled dessert. A lot of common cookout favorites tend to have dairy, but this does not mean that vegans have to go without dessert. People who give this recipe a try are shocked to see just how easy and delicious it is to make dairy-free chocolate ice cream. The secret ingredient is simply frozen bananas, and only one other item is required. The end result is an incredibly creamy dish that tastes rich and chocolaty while still being entirely vegan. Keep in mind that the texture is best when it is eaten directly after being made.
Ingredients:
Instructions:
Peel the bananas and slice them into half-inch rounds. Spread the bananas on a flat baking sheet lined with parchment paper and place them in the freezer until firm. Depending on how thick the bananas are sliced, freezing can take anywhere between 20 to 60 minutes.

Place the frozen bananas and the cocoa powder in a food processor or blender. A processor works better, but a blender is fine if that is the only available equipment.

Pulse on high for a few moments to finely chop everything up. Then, run the mixer steadily for a few minutes. The banana mixture will gradually transform from a rough, chunky-looking puree into a smooth, silky mixture with a texture like soft serve ice cream.

Serve the vegan ice cream in a cone or a bowl. If desired, top with chopped berries, chocolate fudge, sprinkles or caramel drizzle.